by Nick on Feb.07, 2013, under Aviation, General
Have you ever been stuck in your car in a traffic jam on the way back from work, thinking that there must be some way to get away from the traffic?
How would it be to be able to fly above it all? The dream of flying cars has been around for a long time. In Science Fiction movies, such as "The Fifth Element", we constantly see different concepts of the flying car. Isn't it true that if we can dream it, we can make it?
While flying cars have long been a stable of fantasy and science fiction, in actual fact there have been many notable and successful attempts to make a vehicle which is both roadworthy and capable of aerial flight over the years.
It is only in recent times that technological advancements have made such cars much more practical and although the days in which there is a flying car in every garage are still not here, it is clear that the near future holds endless possibilities in this area.
There will be a series of articles on the Friends of Aviation website on the subject of Roadable cars and flying vehicles within the next two months. Within the next decade, the world will launch into a series of new aerial vehicles that will revolutionize personal travel and enable tens of thousand if not hundreds of thousand new individuals to take to the skies.
Here is a quick overview of a few of the companies and the flying cars which are in development today.
TERRAFUGIA:
(Photo: Courtesy of Terrafugia®)   
This is a business based in the US and formed by former students of the Massachusetts Institute of Technology (MIT). It is currently in the process of creating a "roadable" aircraft called the Transition ,which it hopes will be suitable for individual ownership, acting as a personal vehicle for the road or the air. What makes the Transition a significant improvement over older designs is that its wings can be retracted in half a minute, making it ready to use on the road in the blink of an eye. It is expected to hit the private market at some point in 2011, although prototypes have undergone thorough testing.
To use the Terrafugia Transition it will be necessary for the driver to take it by road to their local airport. It has a flight range of up to 500 miles with room onboard for two people. The cost of ownership is likely to be in the region of $150,000, although the firm has yet to confirm pricing and a Sport's pilot`s licence is essential for flying this or any other of the flying cars.
Visit www.terrafugia.com to follow the progress on this project.
MAVERICK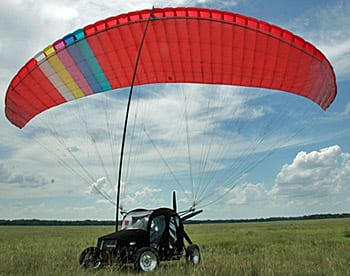 The Maverick from I-TEC is an interesting roadable    aircraft currently in development which attempts to offer even greater operational diversity by being able to go off-road when it is on the ground. It takes the form of a converted dune buggy which has an integrated propeller and a parachute system which will allow it to be dropped into some of the world`s most inhospitable regions to examine fuel pipe lines and check up on remote communities.
THE SWITCHBLADE
Developed by Samson Motorworks, the Switchblade is a concept vehicle which has three wheels, wings arranged in a scissor design and rotary engines which mean that the propeller need not protrude when the craft is at ground level. At the moment the Switchblade is still at the prototype phase but it is expected to reach 110 mph on the roads and up to 200 mph when in flight mode. The owner will not have to store wings or accessories at the airport, as was the case with older planes, because everything is designed to retract out of harm`s way when a flight is over. A particularly cool feature of the Switchblade is that even when it is on the ground the body will bank and rolls as the car turns, simulating the feeling of flight.  Visit www.samsonmotorworks.com to follow the progress on this project.
THE BUTTERFLY – SKY CYCLE
The Butterfly is an intriguing aircraft which is in essence a gyroplane that comes in a number of different designs and is intended for one or two passengers. Most models look very much like something from a James Bond film, with one propeller enabling lift while another dictates the direction and provides forward momentum. When on the ground the vehicles are designed to act like large motorcycles with light frames and three wheels providing stability and balance. The manufacturer intends that these types of flying motorbike will be suited to individuals as well as law enforcement organisations who need nimble, versatile vehicles which can get into any location with ease.